Northmont High School
Class Of 1971
In Memory
Brenda Binkley (Thomas)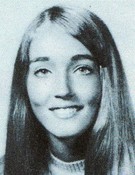 It started out as "Card Club...
Back in the late 70''s someone had a baby shower at Kae Biser Moore's apartment and a few of us locals had the idea that we should get together since we still lived in the area. Once a month Kae, Sue Cuchot, Nancy, Brenda, Jackie and i started playing Tripoli. (We wanted to tell everyone we played bridge)!! Anyway we eventually changed the name from "card-club" to "talk N eat" because we talked more than played cards. (that was annoying to some die hard card players)!!. We had so much fun as each month someone had everyone over to their house and made a spread of great food and we each brought our own butter tub of pennies. Kay didn't like the deviled eggs but we HAD to have the every month. We went through having babies, sharing baby stories together and just had the best time. We were devastated when Kae announced that she and Don were moving to Denver. We were down to 5.
As the kids grew older it was more difficult to stick to our once a month schedule but we did our best. We got so frustrated when our husbands told us to schedule a date and just STICK to it.. (easy for them to say but who takes over when kids get sick ha ha)
Sue Couchot lived 10 years with Ovarian cancer so we lived that with her and all the years of Brenda being in and out of hospital. Brenda a Sue were especially there for each other and Brenda really missed Sue when she passed away. Jackie would then call Brenda and talk on phone or stop by to check on her. I took over for Jackie when I had more time and talked to Brenda most everyday until close to her death. I miss that and miss Brenda. She wanted so much to have a normal life and to be healthy.
We went from having babies together, swigging a beer and piercing each others ears, talking about family, supporting a few through divorces, sickness, death, shopping weekends, now we talk about hormones, being tired all the time, having more time and getting less done, etc etc.
It's been a fun journey with the 5 of them and now we are down to the three of us here in Dayton. We still try to get together but nobody wants to cook and make deviled eggs anymore.
So!
We go out to dinner and have a drink!
Marcia Williams Bechtel