Northmont High School
Class Of 1971
In Memory
Jacqueline Carlton (Booher) VIEW PROFILE
CORONA - Jacqueline Booher was a music and dance teacher who friends say loved her job, her students and her school. Mrs. Booher died Tuesday while driving to Wal-Mart to buy school supplies.
Mrs. Booher, a Corona resident, was 54. She was a teacher for 21 years at Crossroads Christian Preschool in Corona.
"She was gentle and caring," said Rhonda Miller, of Corona. "She was an all-around lovely person. She will be dearly missed by thousands."
Counseling is being made available for staff and students at Crossroads preschool. Students called her Miss Jacie. Penny Morrison, director of Crossroads preschool, said she was "completely devastated."
The children are feeling the loss. "They definitely miss her already and are asking about her," Morrison said. "We are dealing as gently as we can with them. She loved everything about teaching children. She would do anything asked of her and more."
Children's remarks about Mrs. Booher are indelible in the memory of Roger Harris, executive director of Crossroads Christian Schools.
" 'She taught me to skip, she taught me to dance, she taught me to keep rhythm' were some of the comments of our kindergartners and first-graders," Harris said.
Mrs. Booher is survived by her husband of 30 years, Mike, 53. They became sweethearts at Northmont High School in Englewood, Ohio. She was a cheerleader. He was the quarterback of the football team coached by his father, Ned, who would go on to coach and run the athletics department at Notre Dame High School in Riverside.
"She actually approached me. That's how we met," Mike Booher said. They graduated in 1971.
Mrs. Booher attended Urbana College in Urbana, Ohio. She taught dance for nine years in Ohio before her family moved to California.
Mike Booher described his wife as an extremely social, loving person.
She is survived by two grown children, Brad, 26, and Whitney, 25; her father, Clyde Carlton, her brother, Mike Carlton, her father- and mother-in-law, Ned and Barbara Booher, and sisters-in-law, Kelly Jo Carlton and Michelle Booher, and sister-in-law, Sheri Stoddard, and her husband, Terry.
A memorial service is scheduled for Tuesday at 7 p.m. at Crossroads Christian Church in Corona.
Mrs. Booher will be buried at Arlington Cemetery in Brookville, Ohio, near the grave of her mother, Elizabeth Carlton, who died 19 months ago.
In lieu of flowers, donations can be sent to the Jacie Booher Memorial Fund atCrossroads Christian Preschool.
September 5, 1981 Class of `1971 10th Reunion
Pam Powell Overla, Jacie Carlton Booher(pregnant with Bradley),& Christine Mikesell Bidwell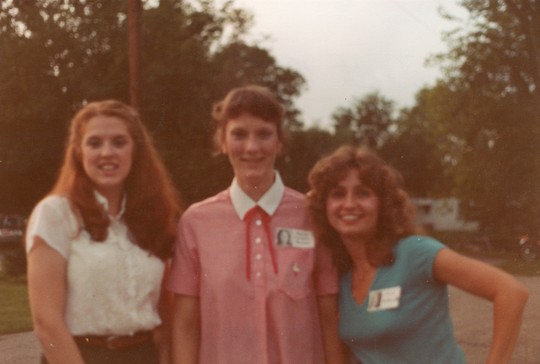 Sept.5,1981 10th Reunion Jacie with Norb & Pam and Chris Herr
My visit with Jacie and Mike in June 2006.
Jacie with Marcia Williams Bechtel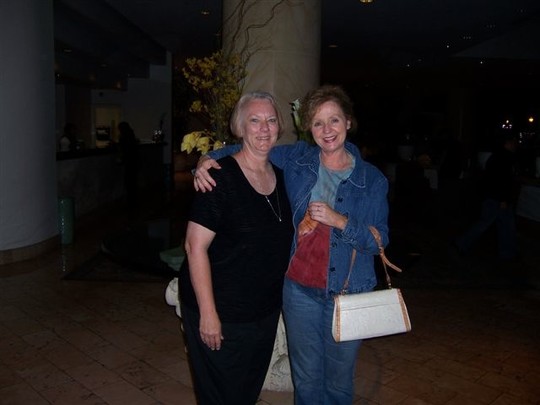 Click here to see Jacqueline's last Profile entry.