Northmont High School
Class Of 1971
In Memory
Ned Booher Faculty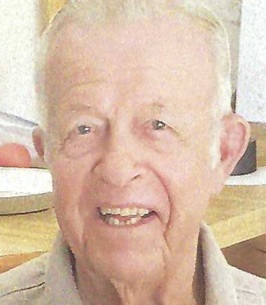 RIP Coach Booher,
Ned Franklin Booher, age 87 of Riverside, California passed away on Friday, October 4, 2019. He joined his wife Barbara who passed away on September 25, 2019. Ned and Barbara were together in marriage for 66 years (married April 4, 1953) and 7 years prior as they 'met at the pencil sharpener in 8th grade.' Ned is survived by his son Michael (and his children, Bradley Booher, Whitney (Jared) Booher Coco and their children Jacqueline age 7, Wesley age 5 and Jace age 2) his daughter Sheri (Terry) Booher Stoddard (and their children, Dana Stoddard, Shannon (Christian) Yrizarry and their children Kingston age 6, Lincoln age 4 and Brooklyn age 6 months) and his daughter Michelle (Janet Adams) Booher, sister Nancy Lingg and extended family in Ohio. Ned was born in Tipp City, Ohio to Howard and Treva (Cost) Booher on February 10, 1932.
Ned graduated from Tipp City High School in 1950 where he was a member of their football (quarterback) and basketball teams. Ned then attended and graduated from Ohio Northern University (Ada, Ohio) in 1954 where he was a member of the Bears football team, was a member of the Sigma Chi Fraternity and received a degree in education. He received a Master of Science Degree in education from Xavier University (Cincinnati, Ohio) and his Professional Education Certification from the University of Dayton (Dayton, Ohio)
Ned's first coaching position was as the head basketball coach for St. Gerard's Catholic High School in Lima, Ohio in 1953. In 1954, Ned accepted a position as head basketball, assistant football coach and biology teacher at Rockford High School in Rockford, Ohio. In 1959 Ned moved to the head football coaching position at Rockford High School. In September of 1960, Ned accepted the head football coaching position and high school biology/health teacher at Caldwell High School in Caldwell, Ohio. On August 1, 1962 Ned accepted the head football coaching and health/biology teaching position at Northmont High School in Englewood, Ohio where he coached and taught until his retirement in Ohio on April 1, 1986. In his 34 years at Northmont High School he taught many young people to enjoy learning, give 100% to every aspect of their lives and be proud of hard work as the results would become an endless part of their future. His coaching career at Northmont produced several undefeated seasons and a 30 game winning streak and countless student athletes who were able to take his lessons into their lives as the basis of their future successes.
Ned and Barb relocated to Riverside, CA upon Ned's retirement in Ohio where he became the head football coach at Notre Dame Catholic High School in Riverside, CA and later the Athletic Director.
Upon Ned's final retirement he became a fixture on the golf courses in the Riverside area, revived his love for farming, on which he grew up, by creating a tomato garden in the back yard and supplied his family and friends with 'home grown' tomatoes. He drove all over Southern California with Barbara supporting first his grandchildren's and then his great grandchildren's academic and athletic endeavors.
Ned was preceded in death by his wife Barbara, his parents Howard and Treva Booher, his brother William Booher, and his daughter-in-law Jacqueline Carlton Booher.
A joint Memorial Service for Ned and Barbara Booher will be held on Monday, November 11, 2019 at 11:00am to 12 noon at the Arlington Mortuary, located at 9645 Magnolia Ave., Riverside, CA 92503. (Phone 951-689-1011 or 1-800-Arlington. In lieu of flowers, the family would appreciate that donations be to the Northmont Football Thunderback Club. Mail donations to John Brands, 1050 Jackson Rd. Vandalia, Ohio 45377. A letter of thanks will be sent to each person that donates to the Thunderback Club. Condolences for the family may be sent to www.bakerhazelsnider.com.